Ever needed a cream that would do everything from moisturize, soothe sore, cracked skin, hydrate lips, soften cuticles and treat psoriasis or cold sores? Well at last, someone has made one and it works!
Crammed with organic yarrow and lots of other lovely, natural stuff; this handy little pot of Móa balm has many weird and wonderful uses.
Móa is a natural skin care balm with miraculous healing powers to soothe, nourish and renew dry, itchy skin conditions, bumps, bites, grazes and minor burns. Móa even works wonders after shaving and as a facial cleansing balm.
Móa contains 100% natural and organic herbs. E
ach pot of
Móa
The Green Balm is crammed with organic Yarrow (Achillea millefolium) a herb renowned for its nourishing and healing properties. Combined with tea tree oil, nature's powerful antiseptic, yarrow creates a miraculous healing synergy with endless therapeutic properties. Finally beeswax, coconut, sweet almond and soya bean oils help to soften, nourish and protect the skin, so you will be soft as a baby's bottom!
Móa has a magnitude of uses including...
Soothe dry and itchy skin conditions like eczema and psoriasis

Treat cold sores and chapped lips

Apply to sore, red nostrils when you have the sniffles

Mix with a little hot water and gargle to soothe a sore throat

Calm sun-burnt or weathered skin ailments; even mild frostbite, so they say

Help heal minor cuts, sores, bruises and burns

Use on minor burns from the camp fire

Use on rope burns and blisters and avoid scarring

Zap those pesky insect bites and stings

Use between the toes to help combat athlete's foot; it's a ramblers dream-cream!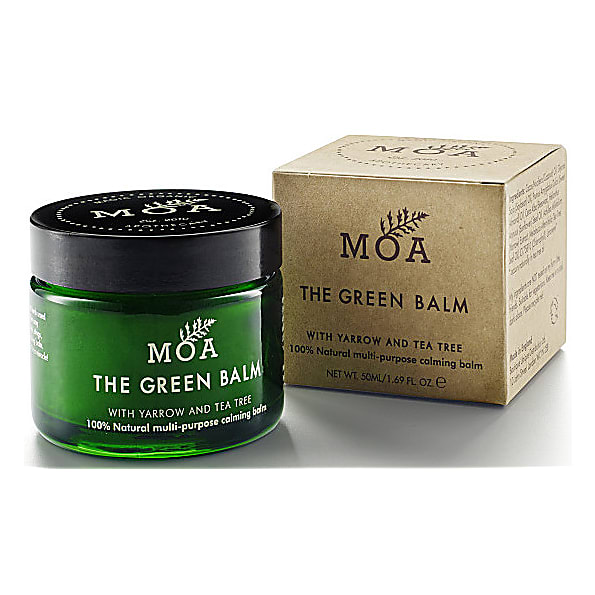 Móa has many beautifying remedies too; ideal for taking on holidays and festivals when space is precious.
Calm inflamed skin after shaving, waxing or threading

Condition eyelashes and help them grow longer; apply moa everyday!

Help fade stretch marks after pregnancy

Soothe your new tattoos or piercings, whilst avoiding infection with anti-bacterial tea-tree

Moisturise and nourish dry hands, nails and cuticles

Revive dry ends; apply before shampooing

Soften dry bits like knees, elbows, feet and heels

Rub it into dandruff and leave overnight before shampooing

Magic at removing eye-make-up; safe to use around the eyes

Kiss goodbye to the dreaded coldsore
You have got to try the Móa cleansing ritual; give your skin a balancing deep cleanse' it's a bit like treating yourself to a daily facial!
Take a small amount of moa and melt it between the fingertips to create an oil

Smear the oil over your eye make-up, smudging it away from the eyes

Massage your face with a little more moa to encourage better lymph circulation and tone the facial muscles

Dip a cotton face cloth in hot water (not too hot), wring it out, and press it to your face; steaming away the oil, along with all the grime and impurities, whilst sealing in the essential oil goodness

Finish off with a cold compress to tone and close the pores. Coo err!
I adore this tub of goodness, i hate carrying a hand cream, a lip balm, a cuticle oil, a coldsore cream, etc, etc, etc, so this is literally my new go-to beauty all rounder!